HELLO FROM NANCY VIAU!
(Viau is pronounced VEE oh. It rhymes with Leo.)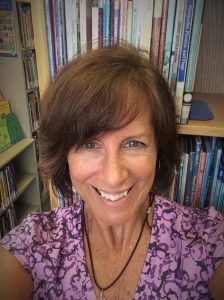 As a children's book author, I love to create fiction for kids ages two through twelve. I'm the author of three picture books and two middle-grade novels. New books are forthcoming in 2018 and 2019! For more author info, be sure to read About Nancy (bio), and if you'd like to learn all about my published titles, click on Books.
I especially enjoy talking to elementary school students about writing, in large groups, in their classrooms, or even via Skype. 
In fact, I'm happy to do presentations any place where children gather — preschools, libraries, bookstores, festivals, etc. I can't think of a better way to spend my day.
Additional information can be on Visits & Workshops. Please Contact me if you have any questions!
I hope our paths cross one day soon. Until then, take a look at the fun facts below. Kids will especially enjoy these!
What was I like as a child?
My parents said I was a delightful, curious child. They chose to forget that I fed dandelions to the dog, stuffed toys into the well, and made jelly sandwiches for the campground bears. My brothers teased me constantly and affectionately called me "Brat." As the youngest sibling, I fought for attention and never stopped talking or singing.
Most of my early songs went something like this:
Oh, the trees, the pretty trees.
Oh, the leafy, pretty trees.
When my family begged me to sing a different song, I did.
Oh, the frogs, the croaky frogs.
Oh, the frogs, the pokey, croaky frogs.
To get me to stop singing, I was told to sit quietly and write a story or poem. As soon as I finished, I had to read it out loud, of course. When Mom or Dad smiled and said, "Nan, it's time to give it a rest," I knew they were only kidding.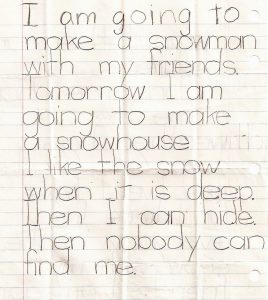 So, you can imagine how much I loved school! I couldn't wait for that first day when I got to open a new book or sharpen a very special pencil. After school, I liked to play kickball, ride my bike, swim, take dance lessons, dig in the dirt or snow, collect rocks and shells, or go to Brownies. At the end, I'd read or write a short story about my day.
What did I want to be when I grew up?
I wanted to be a ballerina, but after hundreds of lessons, I realized that wasn't going to happen. Those shoes and costumes were uncomfortable!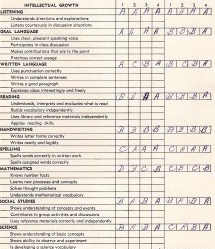 I considered becoming an astronaut, but astronauts had to take many math classes, and math and I didn't get along very well. Do you see the "D" on my report card? But I didn't let math get the best of me. I knew I could be good at anything if I worked hard enough. What grade did I get by the end of the year?
Why did I become a writer?
Writing requires very little math! Seriously, I've loved the written word ever since Mrs. Oberholtzer put Go Away, Spot! on my first grade desk. Since that day, I wondered what it would be like to be a writer. As a child, I had written a bunch of stories about my adventures, but it wasn't until decades later that I decided to mix my experiences with those of kids I knew (including my own), and put my thoughts down on paper. I've been hooked on writing ever since.
What are some of my favorite books?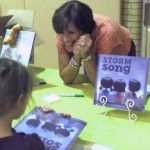 Lilly's Purple Plastic Purse by Kevin Henkes
My Teacher Is A Monster by Peter Brown
Count the Monkeys by Marc Barnett
Charlotte's Web by E. B. White
Stargirl by Jerry Spinelli
Tales of a Fourth Grade Nothing by Judy Blume
Feed by M.T. Anderson
What are my favorite things to do?
I love to bike, hike, and swim–many of the same things I loved as a child. I really enjoy my job as a librarian assistant, but travel is also a favorite activity. Learning about new places and new cultures is the best! I've been to almost every state in the USA, and have been fortunate to visit quite a few countries. One day it might be nice to visit the Moon, but I may have to settle for an unusual place that's closer to New Jersey. Iceland, anyone?
Thanks for stopping by my website!
: )