This Sunday, October 9 at 4:30, I'll be hanging out with the fabulous booksellers at Hockessin Book Shelf in Delaware signing brand new copies of Just One Thing! (for ages 8-12). And guess who's coming? Illustrator Tim Young!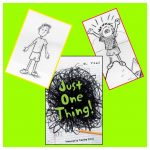 Join in the fun as we celebrate with giveaways, readings, and #1 candy treats. Kids of all ages are welcome. Copies of my books for younger readers will be available.
Won't YOU join us? More info here: https://www.facebook.com/events/183232452106549/
Hope to see you!