In the forest, a fawn tries to stand, but shakes and falls. In the field, a young spider needs a nap after spinning a web. Near a stream, a frog flicks its tongue, but the fly zips by. In Look What I Can Do!, animals from the forest, field, and stream work hard to overcome the challenges they face in their day-to-day lives. This delightful story acknowledges the bravery of the young, and its rhythmic text inspires children to never give up.
"Large, eye-catching images of the animals and their young are realistically painted, and their faces are wonderfully expressive. This gently affirming tale is perfect for parent-and-child sharing and offers many opportunities for discussion." ~ School Library Journal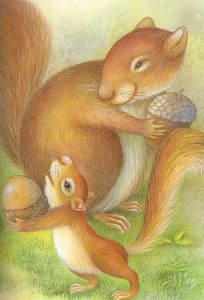 "Parents are always looking for ways to encourage their tiny ones, and this is a great book for motivating young children who may be getting discouraged as they try to learn new things. The text is simple, which makes this story good for younger audiences. The illustrations are colorful and really personify the animals to make them sympathetic and relatable." ~ The Washington Times
"This book celebrates such milestones as standing up, crossing the path and leaving the nest. The reader will cheer Bravo! And rejoice with the plucky little achievers."
~ Eileen Spinelli, author of Cold Snap, Silly Tilly, and more 
"Baby animals strive to 'stand up strong,' leap high, and 'spin a trap.' But learning is full of challenges, distractions, and fun. In this message-driven tale, children see how various creatures struggle to develop and gain confidence. On the pages with the refrain, children will especially enjoy looking for each animal duo previously introduced. In the end, this all serves to remind kids to take things slowly and keep trying new things, be they walking, hopping, or skipping rope." ~ Kirkus Reviews
"Encouraging words paired with enchanting art makes everything about  Nancy Viau's splendid new picture book sing!" ~ Judy Schachner, author of Skippyjon Jones Cirque de Ole, Skippyjon Jones, Lost in Spice, and more

Need a personalized bookplate? Please contact me!
To order your copy, go to: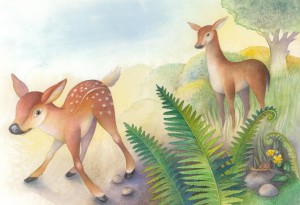 Look What I Can Do!
By Nancy Viau
Illustrated By Anna Vojtech
Abrams Books for Young Readers
ISBN-13:  978-1-4197-0529-8