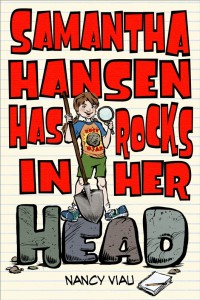 Samantha Hansen will be ready to ROCK again in 2019!
This book, a favorite among teachers for it promotes STEM and girls in science, is getting a whole new look! It will be re-released in 2019 along with its sequel, Something is Bugging Samantha Hansen!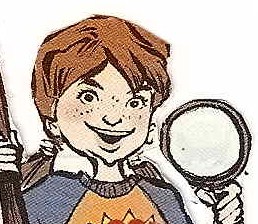 Sam is a ten-year-old mad scientist, but she doesn't blow up stuff or change kids into cats that bark. She just has a little trouble keeping a lid on her temper, and she "ab-so-lutely" LOVES science, especially rocks.
Her family is planning a trip to the Grand Canyon, so Sam works hard to stay out of trouble. It isn't easy for this fourth-grader because she has to deal with a bossy sister, a busy mom who's obsessed with birthday cakes, and a playground bully who calls her a science freak.
Will Sam survive the class cave trip, a rocky talent show, and a surprise party? Will counting to ten keep her from exploding like a loud volcano? Will she ever get up the nerve to ask her mom about her dad?
With a mouth that seems to have a mind of its own, a brain full of science facts, and a heart that's heavy, Samantha Hansen meets every challenge head on.
Samantha Hansen Has Rocks In Her Head is a hilarious and touching story perfect for elementary school kids.


"Sam is an engaging and realistically drawn protagonist. Sam's love of science is refreshing, and Viau does a nice job of incorporating information about the Grand Canyon and the study of geology into the story line. Readers will easily relate to Sam as she tries to make sense of the world around her."
~ School Library Journal
"Samantha's fractions, her temper, her love of rocks, and her mother's cakes all add up to create a sweet and funny read."
~Ingrid Law, author of Savvy, a 2009 Newbery Honor Book
"Sam shares many qualities with Junie B.—the obligatory spunk, a chattily ingenuous voice—but her passion for science distinguishes her from other franchise heroines."
~ Kirkus Reviews

Need a personalized bookplate? Please contact me!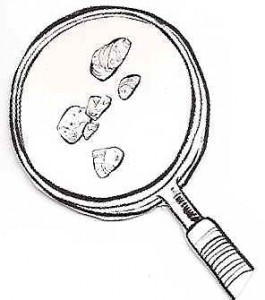 To order your copy , go to:
Samantha Hansen Has Rocks In Her Head
By Nancy Viau
Abrams Books/Amulet Books
ISBN-13: 978-0-8109-7299-5