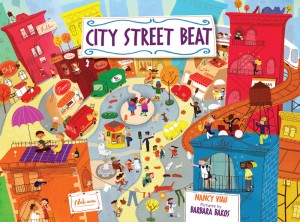 Sing-a-ling a city song
That's playing on the street.
Rock-n-roll the razz-ma-tazz
And hip hop to the beat!
In City Street Beat, a young girl travels from the country to the city on her way to a friend's house. Together, they embark on an adventure, taking in all the city's sights and sounds. They hear the tippy, tappy clack of high heels on the sidewalk; the strumming and drumming of a three-piece band; the flipping and flapping of dancing pigeons, and more. The girls move and groove to the rock-n-roll and razz-ma-tazz of the city's hip-hop beat using all five senses until at last it's time to say good-bye.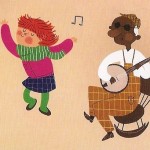 "For the duration of a day, two peppy little girls enjoy a visit with one another while dancing along bustling streets and listening to rhythms in the city sounds. The girls hear catchy rock and hip-hop beats, from ordinary people walking, musicians playing, the bake-shop bell ringing, a trash truck rumbling, birds eating, and more. With an absence of dialogue and the inclusion of a recurring verse, the book is marked by a descriptive rhyming writing style that progresses at a jaunty pace … Also among the busy details are whimsical and dainty mice that reappear throughout. There is much to see in this cheerful tale that will stimulate readers' imaginations while showcasing city life. As an extension of the story, encourage children to listen for rhythms in the sounds of their school or home surroundings." ~ School Library Journal
"Readers explore the rhythm of the city in this whimsical, musical journey, along with two young friends who meet for a day of city fun. The author uses rhyming text to present a child's view of the rhythms of the city, from jump rope and street musicians to garbage trucks and pigeons. The text is structured like a song with a chorus that celebrates the different beats of the city. The playful illustrations complement the text with their musical energy and busy detail. This is a good read-aloud selection to celebrate the beauty and hustle and bustle of urban life. Recommended." ~ Library Media Connection
"Viau adds to a category of picture books celebrating urban life in this rhyming ode to the sights and sounds of the city. A girl and her mother drive into the city, where they meet up with a young friend and her father. The parents mostly stay in the background as the children jump rope, ride the subway and a bus, and dance to a street band. Viau's verse zips along with a strong emphasis on sound effects ('Hear the shutters climb the wall./ Rat-a-tatter. Bang!') … " ~ Publishers Weekly 
Need a personalized bookplate? Please contact me!
To order your copy, go to:
City Street Beat
By Nancy Viau
Illustrated By Barbara Bakos
Albert Whitman & Company
ISBN-13: 978-0807511640 (hardcover)