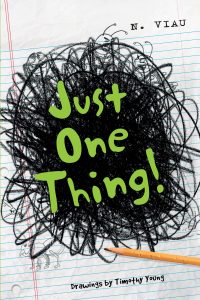 A funny middle grade novel about that awesome (and awkward) final year of
elementary school.
ONE antsy 5th-grader!
ONE embarrassing nickname!
ONE year to change things!
Anthony Pantaloni needs Just One Thing!—one thing he does well, one thing that will replace the Antsy Pants nickname he got tagged with the first day of fifth grade, one GOOD thing he can "own" before moving up to middle school next year. Every kid in Carpenter Elementary has something: Marcus is Mr. Athletic, Alexis is Smart Aleck, Bethany has her horse obsession, and even Cory can stake a claim as being the toughest kid in the whole school. Ant tries lots of things but – KA-BOOM! – nothing sticks! It doesn't help that there are obstacles along the way—a baton-twirling teacher, an annoying cousin, and Dad's new girlfriend to name a few.
Just One Thing! is chock full of hilarious adventures that will keep young readers cheering for Ant until the very end.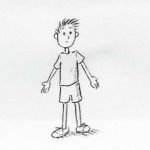 "I got a kick out of Just One Thing! It's a fun book about growing up and self-exploration; trying to figure out what you're good at, and trying to define yourself. Anthony is funny and genuine; he's frustrated by things around him, but tries to be sensitive to everyone around him at the same time. It's a nice balance to Diary of a Wimpy Kid. Pages at the end of each chapter let kids journal, doodle, or draw; a nice added touch that makes the book more personal for kids trying to figure out their One Thing."
~ Rosemary, Children's and Academic Librarian (Blog: Mom Read It)
"Finished this book up and loved it!! I can think of lots of former 5th grade students who would LOVE this book about finding your one thing you excel at! Awesome words and illustrations."
~ Jessica Samuel, Librarian #bookvoyage
"With tons of humor and lots of heart, this story jabs into the core of middle grade insanity and the question of whether or not a kid can ever make it out with even a little bit of self-esteem intact. This book had me and my son smiling and giggling the entire way through. Ant is an average boy stuck in an unfortunate situation, but not one that surpasses reality. His problems are fairly normal, but mount from one moment to the next. Most of it isn't his fault but still, he has to deal with the fall out. It's easy to feel for him and understand the problems he's going through. Although many situations are giggle worthy, the meaning and reality behind them still hit home. Life isn't easy and problems aren't always simple to solve. Still, there's a lovely dosage of hope and the encouragement that help sometimes comes from the most unexpected places. It's these moments which bring forth those fuzzy warm feelings and make it a read to enjoy. The messages in this book are clear (learning to love yourself, friendship, understanding, never giving up, etc.) but they are weaved masterfully into the story insuring that they never feel preachy."
~ T. Drecker (Blog: Bookworm for Kids)
"This book is perfect for that targeted age group. At this stage in life kids are trying to figure out who they are, what they have a bend towards, and where they want to go in life. The book talks about the frustrations and challenges that life unleashes and how with perseverance and a little help from friends and family you can make it through successfully. Will Anthony be successful and become all he is created to be? There are pages at the end of each chapter which enable the reader to journal, doodle and respond to the story line. The entire book is narrated through the eyes of Anthony and his doodles comprise the illustrations making this a fun twist on traditional books. This unique feature expresses and augments the "one thing" of the character and brings Anthony alive. Very, very cool idea indeed. I highly recommend this book."
~ Storywraps
"This story has perfectly pitched elementary school humor, and matches that with the heart and concerns of many 5th graders. Boosting one's self esteem and navigating friendships, failures and single fathers are themes that have universal appeal. The themes of learning to love yourself, friendship and acceptance are woven into Ant's pursuit of finding the one thing that will set him apart, and every chapter is peppered with giggle-worthy moments for tweens."
~ Joanna Marple, School Librarian (Blog: Miss Marple's Musings)

Need a personalized bookplate? Please contact me!
To order your copy, go to: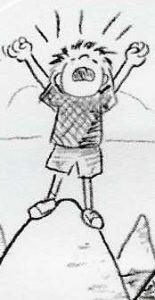 Just One Thing!
By Nancy Viau
Drawings By Timothy Young
Schiffer Publishing
ISBN-13: 978-0-7643-5162-4