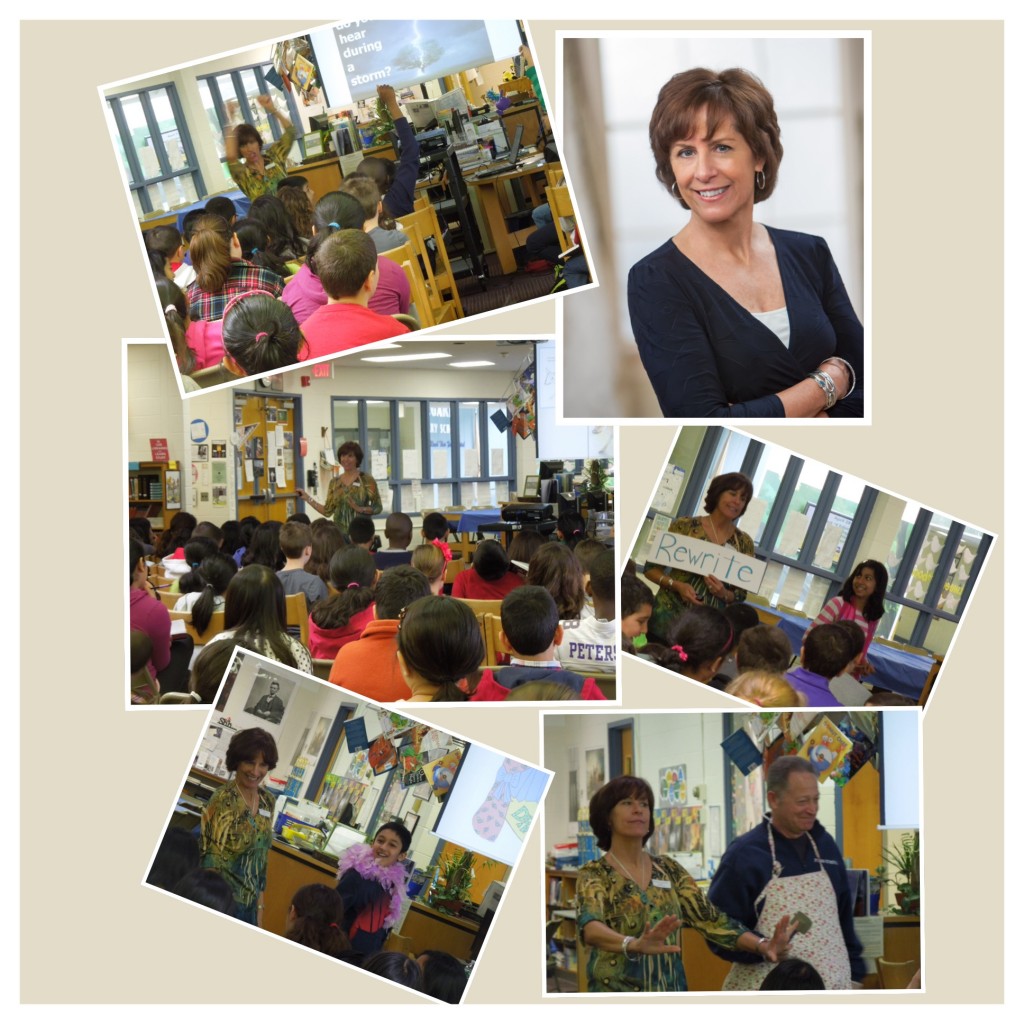 For information on rates, please Contact me. I promise to work with you to bring you the best stress-free program possible—one that fits into your budget, introduces your students to an author's life, explores the writing process, and makes everyone smile!
FOR ALL LARGE-GROUP PRESENTATIONS
This full-day visit includes three (sometimes four) presentations combined by grade. A half-day program is also available. Travel expense may apply (mileage, hotel, meals, etc.); however, if I can visit another school in the area, the day before or the following day, both schools will receive a discount.
I also enjoy speaking and reading to children who are home-schooled, book club members, library patrons, preschoolers, Girl/Boy Scouts, non-profit groups, and more. If within a reasonable distance, I don't charge a fee, but ask that my books be available for sale.
Four to six weeks before my visit:
* My invoice is signed and a copy is sent to me. Honorarium is due the day of my visit.
* Teachers prepare students for my visit by talking about my books, viewing this website, or writing down questions to ask me.
* Perhaps a bulletin board can be created to announce my visit. Here are a few things to get you started: Bulletin Board Photos and Text.
* The book order form I have provided is completed and circulated.
Three weeks before:
* Students hand in book order forms and the total number of books ordered is sent to me or a bookseller.
On the day of my visit, I provide
* a laptop.
* a LCD projector.
* extension cords.
* all instructional materials.
* extra copies of books.
I need a
* media cart or table.
* second table for props.
* large screen or white wall.
* flip chart or dry erase board, and markers.
* microphone, if necessary.
* staff member or tech person on hand.
* bottle or glass of water. (Lunch is also nice. I eat anything!)
Students in the upper elementary grades may be asked to bring a
* pencil or pen.
* writing journal or paper.
Just a heads up – cafeterias and gyms are my least favorite areas. Libraries and amphitheaters that hold approximately 100-200 kids work best.
~~For program information, click on the School Visits tab or the Writing Workshop tab. For testimonials, click on What People Are Saying.