ROCK-N-ROLL INTO READING AND WRITING
Suggested audiences:
Grades K-1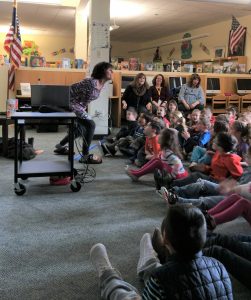 Program length:  45 minutes
ROCK THE RHYME AND RHYTHM,
AND WRITE! 
Suggested audiences:
Grades 1-2  
Program length:  One hour
Am I an author or an illustrator or both? Where's my office? How do I turn ideas and real-life situations into picture books? Do I ever rewrite sentences and stanzas before they are published? How can students make their own stories rock by adding rhyme, rhythm, and onomatopoeia?
The interactive and energetic presentations above are geared toward young audiences. Using the couplets from First Snow and Look What I Can Do! along with music and onomatopoeia from Storm Song and City Street Beat, students experience each book's unique theme in a lively, rhythmic way. From forest habitats to urban settings, they discover how to search for inspiration in their daily surroundings. To emphasize the importance of revision, they become "Super-Duper-Fixer-Uppers," working with examples of changes I had to make in my titles and content. Even though "It's not easy…" (a phrase from Look What I Can Do!), children are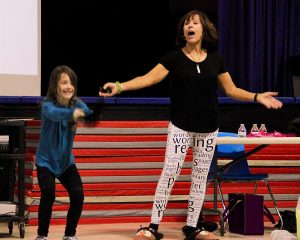 encouraged to "keep the crazy" and explore the fun in reading and writing.
STEP INTO MY WRITING WORLD, AND YOURS!
Suggested audiences:
Grades 3-6
Program length:  One hour
Where do I write? How do I come up with ideas? What is my method for saving and expanding my ideas? What is my process for creating characters, deciding on a setting, and developing a plot? How do I revise my work? What am I working on now?
In this funny and fast-moving presentation geared toward a middle-grade audience, I talk about my journey to publication and give everyone an insider's view of the writing business. From the point of inspiration to the final draft, students discover the process involved in creating picture books and novels. They're put to work as my editors and find out which parts of my books required editing and rewriting. We explore how to create interesting characters and how characters' actions and dialogue enhance plot. Students get a peek into my office and my writing life and are encouraged to try their hand at both poetry and prose. Mini writing activities are sprinkled throughout the presentation to help even the most antsy students stay focused and involved. By the end of an hour everyone understands why it takes hard work, patience, and a sense of humor to be a writer.
LET'S READ TOGETHER!
Suggested audiences:
Pre-K and K
Program length: 15-20  minutes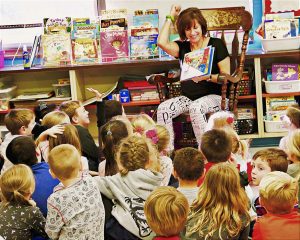 While I don't mind presenting to large groups of very young children, I prefer to connect with them in their classrooms. After a few minutes of poetry, choral reading, and stretches to engage the senses, we sit "criss-cross-applesauce" on the floor for a lively, musical story time. Questions are encouraged!
~~For more information, please click on the General Info tab. For testimonials, click on  What People Are Saying.