JUST FOR KIDS
I absolutely enjoy putting my teacher skills to good use by presenting writing workshops to kids in grades 2-6. These hour-long workshops involve structured (but really fun!) lessons that work well in classrooms, libraries, or bookstores. Workshops are offered separately or in conjunction with school assembly programs.
Below is a brief list of workshops. Please email me for details.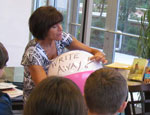 Write Away! (A unique and highly interactive experience that inspires kids to think "outside the box" when crafting stories.)
Meet My Best Friend, My Character
Super Sensational Settings
Kicker Hooks
Props for Plot
Inspiration Exploration
Outrageous Onomatopoeia
Writing Op-Ed: Your Voice Matters!
JUST FOR ADULTS
So You Want to Write a Picture Book?
M & Ms and Why You Need Them: Marketing Materials for Writers
~~For more information, please click on the General Info tab. For testimonials, click on What People Are Saying.